Tips And Tricks For Storing Premium Quality Rugs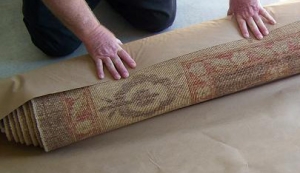 Antique rugs, Persian rugs, and other types of premium rugs should be stored in a certain way in order to avoid damage or avoid rugs becoming dirty. For example, rolled storage is considered to be one of the best ways to store any rug. Most important of all, those wishing to store a rug should never fold a rug as this may result in permanent creasing. In some instances, folding a rug will result in breakage, brittle sections and damage.
Help To Protect An Expensive Rug
One alternative when choosing to roll a rug for storage is to make use of a tube. Consumers have a couple of choices when it comes to tubes that are intended for rug storage. For example, cardboard tubes can be used to roll a carpet for storage. However, a more logical choice is an acid-free tube that can help to protect an expensive rug for long-term or short-term storage. One tip when rolling a rug for storage is to ensure that it is straight and as perfectly aligned as possible. This will also help to reduce the possibility of damage.
Allow It To Roll More Smoothly
In many instances, a piece of muslin or cotton can be used to help begin the rolling process. Whatever material is chosen it should be long enough to completely wrap around the tube and have a few extra additional feet. Roll the material out and then lay the rug on the additional material. As the carpet begins to roll, the additional material will grab the rug and allow it to roll more smoothly. In most instances acid-free options are always the best when dealing with expensive and valuable rugs. Contact David Oriental Rugs today for fine Persian rugs in Houston that are impressive and affordable.