Smart Tips For Decorating With Area Rugs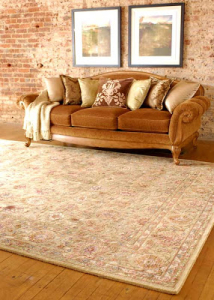 Area Rugs today are more beautiful and more attractive than they have ever been in the past. As such, there are many ways to take advantage of all that today's huge selection of area rugs has to offer. For example, an Oriental rug or Persian rug in particular can be used as a focal point for any room or space. Using an area rug in this way can have a big impact on the overall feel and look of any interior space.
Subtle And Quiet In Nature
When a rug is used in this way, walls can be painted with sharply contrasting color in order to make an attractive rug stand out even more. In addition, a beautiful Asian rug can often be used in order to dial-up or dial-down the volume of a room. In a space where furniture has loud colors or ornate patterns it is often best to choose a rug that is subtle and quiet in nature. Conversely, when a room has subdued furniture it is often best to choose a rug that is busy with regard to pattern or bright in color.
Cleaned In A Well-Kept Condition
Finally, area rugs can be used in many ways to define various portions of a room. They can be highly effective in separating specific areas of a room or creating spaces within a space. A beautiful rug addition can also be used as a way to create greater balance and harmony in almost any room in the home. With so much to offer it is difficult to imagine not choosing to decorate with the many options that rugs make available today. Along with these simple tips it is also a smart idea to always maintain your rugs in a clean and well-kept condition. Contact David Oriental Rugs today for the best in Houston Persian rugs.