Taking Advantage Of All That Oriental Rug Restoration Has To Offer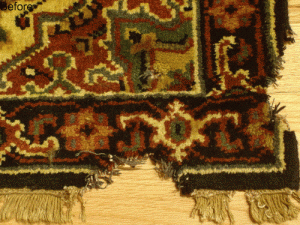 Today's modern rug restoration services are an important and essential part of maintaining new rugs as well as antique rugs. In essence, rug restoration services are important for protecting an important investment like an Oriental rug or Persian rug that are often intended to be handed down for generations. Area rug restoration services can include everything from repairing and replacing padding to stitching the fringe on an expensive and elegant Oriental rug.
Clean Rugs As A Way To Eliminate Live Moth Larvae
In short, rug restoration covers virtually every aspect of repairing and maintaining an area rug for long-term enjoyment. Other typical aspects of area rug restoration include area rug edge binding that is intended to prevent the fraying of expensive Oriental rugs. A valuable rug of any kind can stand to gain considerably from all the edge binding services have to offer. Moth damage is a problem that is experienced by many people that store oriental rugs are Persian rugs for any length of time. Rug restoration can effectively clean rugs as a way to eliminate live moth larvae, thus preventing infestation.
Professional Team Of Rug Restoration Experts
Finally, everything from simple tears to rips and holes in a wide range of Oriental rugs can be addressed by an experienced oriental rug restoration professional. With today's modern and advanced rug repair techniques, rebuilding missing warp or simply re-knotting the pile of an expensive rug can easily be accomplished when working with the right professional team of rug restoration experts. From silk and wool handmade rugs to Oriental rugs and antique rugs as well as a wide range of other unique products destined to enhance a home interior can all effectively be restored with today's modern techniques and products. Contact David Oriental Rugs today for quality Houston rug restoration services.