Questions To Ask When Selecting An Area Rug For Your Home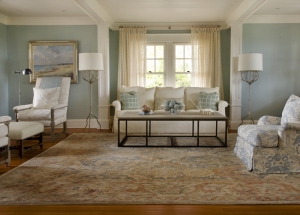 Picking an area rug for your home can be a fun and exciting proposition that often requires asking a few basic questions. For example, when choosing a rug determine whether or not this will be a long-term investment. Selecting an area rug that will ultimately become a family heirloom can be an entirely different process than choosing a run-of-the-mill rug that is more intended to be durable and used in a high-traffic area.
Personalization And Artistic Value
Another important question to ask with regard to choosing a rug is whether or not it will be used to personalize an environment and create a true artistic expression. Going far beyond using a rug strictly for utility purposes and functionality, an exquisite area rug can add an incredible level of personalization and artistic value that should not be underestimated. Ask this question long before beginning the shopping process for a rug. Another important consideration when selecting a rug is whether or not it will be used as a focal point in a room. The selection process is quite different when a rug will be the central theme or focal point of a room.
An Important Determining Factor
Finally, it is important to determine whether or not the chosen area rug will be used with existing furniture. In some instances, homeowners choose to replace existing furniture when introducing a new and elegant rug. Determining how much foot traffic an area rug will be exposed to can also be an important determining factor with regard to the rug chosen. Asking the simple question of how much traffic a rug will experience can go a long way in making the right choice for the right room. Contact David Oriental Rugs today to explore the options with regard to fine imported Houston Oriental rugs.