A Few Simple Tips For Keeping An Oriental Rug Looking Its Best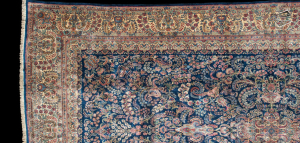 Everyone enjoys the beauty and elegance that a beautiful Persian rug or Oriental rug has to offer. However, there are a few simple tips that can be used to ensure that your Oriental rug always looks its best. For example, one of the easiest ways to accomplish this goal and to ensure that your rug does not become damaged is to keep your cherished oriental rug out of direct sunlight. Direct sunlight can be damaging to a rug and cause it to fade.
As Each Season Changes
Another simple yet important tip with regard to Oriental rugs is to try to frequently rotate the rug when portions of the rug must be exposed to sunlight in a particular room or setting. This ultimately allows for a more even distribution of sunlight, thereby reducing the negative effects of sunlight and fading it causes. One of the best ways to stay on a rotation schedule is to simply reposition your Oriental rug as the seasons change. This also affords a great opportunity to inspect your rug to ensure that no damage or spotting has occurred.
Rotating Your Rugs
As with the effects of sunlight, traffic and pathways taken across a rug can also cause damage over the long term. This issue can effectively be handled in the same way as with sunlight. By simply rotating your rugs on a regular basis you can reduce the damage caused by pathways and traffic. In fact, changing furniture positioning from time to time can help to reduce wear and tear on a rug caused by excessive traffic or pathways. These simple tips along with cleaning spills when they occur can greatly extend the useful life and overall beauty of your valued Oriental rug. Contact David Oriental Rugs for the very best in Houston Oriental rug sales and service.