Effective Ways Of Dealing With Textile Insects Such As Moth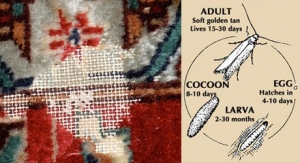 Even a rug that is maintained in the cleanest condition possible can be subjected to the possibility of textile insects such as Moth. With that said, there are some smart and effective ways of managing, controlling and reducing the chances of textile insects in fine oriental rugs and other types of quality area rug products. For example, those with pets may discover the dust mites and other types of pet allergens can eventually work their way into even the most well maintained rug. When this happens it is important to work with a professional rug cleaning service to remove these troublesome pests.
Cellulose Fiber In Carpets
Equally of concern are everything from termites to other fiber-hungry bugs and even silverfish. These pests are known to attack the cellulose fiber that rugs are typically composed of today. Even antique rugs made decades or centuries ago are subject to pests going after the cellulose fiber in carpets and rugs. Especially susceptible to this problem are yarn and cotton-based textiles. Synthetic fiber can be at risk when it comes to textile pests and insects. Silk, wool and other delicate materials can easily be damaged by insects too.
Keeping Rugs Free Of Insects
Some insects may choose to lay their eggs in a rug. In this instance it is always best to choose a professional cleaning service as a way to ensure that pest infestation is completely eradicated and removed from a quality rug. A top priority when it comes to keeping rugs free of insects is to keep them as clean as possible. Cleaning spills quickly can also reduce the chances of infestation. Regularly brushing and vacuuming rugs can also reduce the chances of having a pest infestation problem. Contact David Oriental Rugs today to learn more about Houston Oriental rug cleaning procedures and services.