Discover The Benefits Of An Oriental Rug Pad / Carpet Pad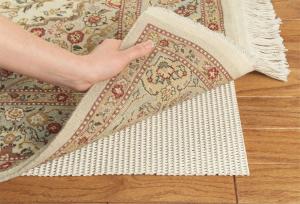 Protecting oriental rugs and antique rugs is easier today than ever before thanks to durable rug pads that are widely available and surprisingly affordable. A rug pad can prevent an area rug or carpet from bunching or slipping. They also serve to reduce wear and tear on floor surfaces such as hardwood flooring. Here are a few benefits that carpet pads make available to homeowners. Perhaps one of the most obvious benefits of a rug pad is that it simply prevents an area rug from slipping and sliding.
Adds A Considerable Amount Of Cushion
However, homeowners should ensure that they purchase a rug pad that is specifically designed to be non-slip. Another advantage of choosing to incorporate the use of a carpet pad is that it adds a considerable amount of cushion in a bedroom or living room. Homeowners can enjoy a more luxurious and comfortable feel under their feet by incorporating a quality carpet pad. In homes where children and the elderly are present, a carpet pad can also reduce the chances of accidents such as trips and falls.
Help Extend The Life Of A Rug Or Carpet
A rubber carpet pad is often a great choice in this regard. By simply adding carpet padding, homeowners can help to ensure that a rug will not become bunched up causing some type of accident. From preventing the chances of a stubbed toe to preventing a fall related injury, carpet padding has real and genuine value in reducing the chances of accidents around the home. Carpet padding will even help extend the life of a rug or carpet. This is especially true in high traffic areas where a rug or carpet experiences a large amount of activity. Contact David Oriental Rugs today for the best in Houston fine Persian rugs.