How To Choose An Area Rug That Is Right For Your Room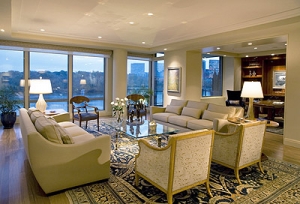 A beautiful Oriental rug or Persian rug can greatly enhance the overall appeal of virtually any room today. As such, it is important to pay special attention when choosing the right rug for the particular room that is being decorated. For example, when opting for a room size rug simply subtract from the total room dimensions a few feet from the length and width of the room to determine what size rug will be best suited for the space.
Showing A Little Bit Of The Existing Flooring
This strategy creates the illusion that a room is actually bigger than it is. In addition, the bare floor space around the edges allows for an opportunity to show off the existing flooring. Whether it is beautiful hardwood or classic stone or tile, showing a little bit of the existing flooring is a smart way to make the most of any room interior. These strategies can also be used with regard to runners used in a hallway. When choosing a runner always make certain that it is several inches narrower and shorter than the entire hallway space.
The Basis Of The Entire Color Scheme
Finally, as always any type of high quality rug can be used to visually turn up or turn down the volume. Equally impressive is the fact that a rug can easily become the basis of the entire color scheme of a room. From using a rug as a focal point to using it as a way to accent colors, the possibilities are endless when interior designers and do-it-yourselfers begin playing with the many possibilities that rugs make possible. Contact David Oriental Rugs today for the very best in Houston Persian rugs and Oriental rugs that have served to inspire countless homeowners throughout the years.