Area Rug Selection Tips For Homeowners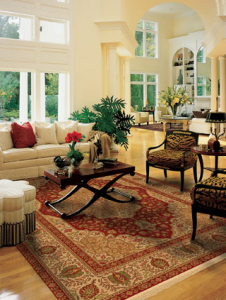 Homeowners today are increasingly turning to beautiful and creative looking area rugs as a way to enhance a home. Because this is a growing trend it is a good idea to consider a few simple and smart tips regarding oriental rug selection for homeowners. One example of a good tip with regard to choosing an area rug is simply deciding upon how a room will be used. This can go a long way in making rug selection easier and more logical. High-traffic rooms or rooms where children may be present would likely not be a good location for a luxury type Oriental rug.
Direct Access To A Room From The Outdoors
Conversely, rooms that have lite traffic or that are used for entertaining and special occasions are likely a better candidate for having an attractive Persian rug for all to admire and enjoy. Another consideration with regard to choosing the right room for a fine Oriental or Persian rug is determining whether or not there is direct access to the room from the outdoors. Obviously, homeowners should avoid placing a beautiful Oriental rug into a room that has outdoor traffic entering frequently with mud covered shoes as well as dirt and debris.
The Center Of Family Activities
Ultimately, only a homeowner can decide which room is best for an Oriental rug or Persian rug. Take the time to consider carefully as this important investment is intended to last for decades and can even be passed down through the generations. Another tip regarding rug choice is determining whether or not a room will be the center of family activities. This type of room will likely best be served by a more durable and versatile rug selection. Contact David Oriental Rugs today to learn more about a wide variety of Houston Oriental and fine Persian rugs for your home or office.