Area Rug Color Selection Basics
Perhaps one of the most challenging aspects of choosing an area rug is in determining which colors will work best in your home. Because this is a common challenge it is a good idea to consider a few rug color selection basics. Ultimately, this will help homeowners make a more informed decision when choosing an area rug for virtually any room in the house. Above all else, homeowners should remember that the color chosen should be in tune with colors already existing within a room.
Colors Can Set The Tone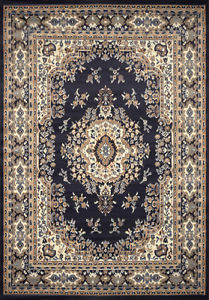 Area rug buyers should be aware of the fact that color coordination is essential in forming a strong bond between a rug and the room where it will be displayed. There are perhaps two ways to approach rug color when making this type of choice. For example, when the desire is to make a rug the central focal point in a room, its colors can set the tone for the entire room. This means selecting the area rug and its color first and then building the room around those colors.
A Beautiful Attractive Space
Conversely, a homeowner can take existing colors throughout the room and choose an area rug based on those colors. In short, color selection can work well in either direction. Those that wish to avoid repainting an entire room may prefer to use the existing colors inherent within a space when choosing an area rug. It is important to note that either method is equally useful in creating a beautiful attractive space for all to enjoy. As a note of caution it is essential to plan carefully when it comes to rug color selection because purchasing a high quality Oriental rug or Persian rug is a long-term investment. Contact David Oriental Rugs for more information on beautifully attractive Houston Persian rugs.